When purchasing a Gift Card from below you will:
Need to enter your info
Be given a code, shown on the webpage and/or e-mailed to you.
Use that code to redeem immediately using quick link provided, or redeem it over time.
When you redeem your code it will deduct appointments booked from the balance of your package.
When purchasing a gift card you will be given a link to view it and have the option of printing or emailing the e-Card. (e-Cards expire in one year of purchase)
Physical Gift Cards can be picked up at our location in our waiting areas but would still need to be activated online.
With our spa and massage services as Swedish, Deep Tissue or Prenatal combined with our signature Trigger Point Therapy you're getting an expert's healing and relaxing touch.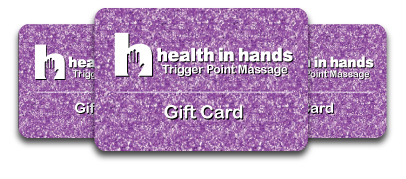 Health in Hands Spa
e-Gift Cards