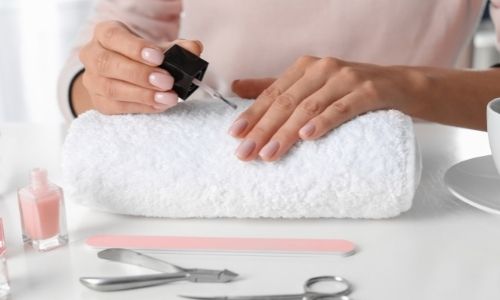 You don't have to go to the salon to get a great manicure! With the right supplies and a little bit of time, you can treat your nails all by yourself. Why would you want to do such a thing?
For one, you will save money. Also, painting your nails is a form of artistic expression and can be therapeutic. You can also customize your nails at home more than you can in a salon.
But what if you're worried about chipping, smudging, or having an otherwise less-than-luxurious experience? No worries. Just follow our tips for getting the perfect manicure at home.
Choose Your Polish
You don't want just any nail polish. You're treating yourself! Choose professional-quality nail products, from lacquers to gel polishes to dip powders. You will want to pick out a base coat, color, and topcoat.
Prep Work
Whether your nails have old polish on them or not, give yourself the full treatment by cleaning your nails first with a quality nail polish remover. Believe it or not, these products can strengthen your nails and moisturize your cuticles. They will also help you get rid of any hidden oils and dirt.
Once your nails are clean, you will also want to clip your nails and gently file any sharp or uneven edges.
Treat Your Hands and Cuticles
Before you paint your nails, treat your hands and cuticles. Exfoliate your hands, wrists, and even your forearms with a great scrub. What is the benefit of doing this at home? You can choose whatever exfoliant you want, in whatever scent you want.
After exfoliating, wash your hands, wrists, and forearms. Then, apply cuticle oil. Once you treat your cuticles, apply luxurious hand cream.
Apply Your Base Coat
After your skin has absorbed the lotion, the next step is to apply your base coat. This will hydrate your nails and prevent your polish from chipping. Then, wait for the base coat to dry.
Apply Your Color Coat
You will want to apply the color of your choice twice. Wait for each layer to dry before applying a second coat.
Pro-Tip
Apply thin coats. If you overload your nails with polish, you risk longer dry times and possible smudging.
Apply Your Topcoat
The final step in getting the perfect manicure at home is applying a topcoat. This will protect your gorgeous new manicure from chipping and will make your nails extra shiny.