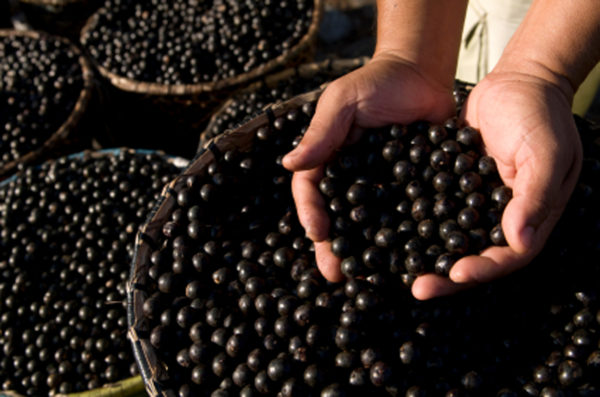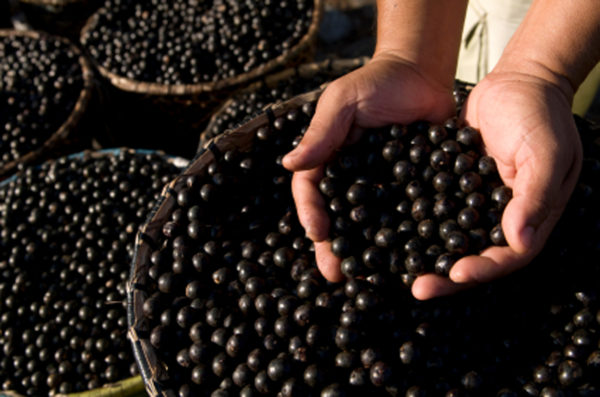 While you're out enjoying the sun, sand, surf and turf this summer, we at
Health In Hands
would like to help you look and feel amazing from the inside out before, during and after you receive a
healing massage
from a member of our
5-star therapist team
. The six superfoods on this list are sure to satisfy your taste buds while preventing common summer issues such as sun damage, dehydration, indigestion and even the
summertime blues
.
1. Acai Berries
Acai berries come from acai palm trees grown largely in the Amazon rainforest of Brazil. Indigo in hue, these little berries are one of the highest antioxidant fruits in the world—packed with twice as many as blueberries. Full of fiber, protein, amino acids and Vitamins A, C and E, acai also has more healthy Omega fats than salmon. These berries are superb for cleansing, energy boosting, better sleep and even improved memory and vision. And they taste good too! You can eat acai berries fresh, drink their juice or blend them with almond or coconut milk into a rich, smoothie-like acai bowl topped with granola, fruits, nuts or whatever else your healthy heart desires.
2. Pecans
In the world of nuts, pecans reign supreme, possessing the most antioxidants of them all—even more than walnuts. High in healthy fats and considered a "brain food", the most powerful nutrient in pecans is manganese, which can help to reduce inflammation, stress, Premenstrual Syndrome (PMS) for women and even promote weight loss, find more tips at Healthcare Guys. This remarkable mineral manganese does all this while also improving your mood and heightening your ability to focus. Beyond baking pecans into a pie, you can toast them, toss them into your own trail mix, sprinkle them over a leafy green or fruit salad, or use them as a topping for an acai bowl.
3. Cocoa
Once used as a form of currency in Central and South America, the Latin name for cocoa beans, Theobroma cacao, means "Food of the Gods". Cocoa beans are the fermented seeds of the cacoa tree, roasted and produced into cacoa nibs, cocoa liquor and cocoa butter to make the chocolate we know and crave. Dry, unsweetened cocoa has over 10 times more antioxidants than blueberries, making it a powerful mood enhancer, and perhaps even an aphrodisiac. It helps heals wounds faster, cure various allergies and allows you to breathe easier. And the flavonoids in cocoa improve cardiovascular health and reduce the risk for heart disease. Cocoa offers the most health benefits when it's organic, raw and dark. While this means it won't be as sweet, you can mix the nibs with dried fruits and nuts like pecans, or add the powder form to shakes and smoothies for a satisfying, guilt-free treat.
4. Manuka Honey
Made by honey bees from the nectar of the Manuka bush, manuka honey is mainly cultivated in New Zealand. Related to the plant that renders tea tree oil, manuka honey is an extraordinary elixir with astounding antibacterial, antifungal and antimicrobial properties, which makes it a powerhouse for treating everything from eczema, irritable bowel syndrome, ulcers, MRSA and possible even HIV/AIDS. And to top it off, it is sweet to eat! To reap the curative benefits of this wonder honey, you must consume it raw. You can stir it into one of our favorite healing teas (only after the water has cooled down, as boiling water will kill the antimicrobials), drizzle it over an acai bowl or include it in a chocolate smoothie.
5. Chia Seeds
Meaning "strength" in the ancient Mayan language, Aztec warriors ate chia seeds for optimal energy and maximum stamina during battles. Today chia seeds are considered ideal for long-distance runners, strength trainers and endurance athletes due to their hydration abilities, high protein and fiber content. Containing all 9 essential amino acids and brimming with Omega-3 fats, chia seeds have been found to help build stronger muscles and bones, as well as prevent, treat and reverse diabetes. While they can be eaten or added into recipes raw, tasting like poppy seeds, chia seeds offer the best of their nutrient value when soaked overnight in water, milk or juice, and become a tapioca-like, dessert-ready chia pudding. Maybe you'll bathe your seeds in coconut water, sweeten the pudding with manuka honey and then top it off with shredded coconuts, acai berries, cacao nibs or pecans. The possibilities are endless—and super.
6. Coconut Oil
There is a meme out in cyberspace that says, "I've got 99 problems and coconut oil solved like 86 of them." While this funny quote may be a passing trend, the bountiful benefits of coconut oil are here to stay, and may just have to be discussed at length in an upcoming blog post. In short, this tropical superfood is ripe with the type of fatty acids that can have therapeutic effects on several brain disorders, minimize seizures, help you burn fat and stave off hunger. Cook with it or eat it raw for a crash-free boost of energy. Smell like summer as you massage it in your hair and on your skin for a lustrous moisturizer with natural sunscreen that also works as an antiperspirant, aftershave and bug repellent.
Not only are these six superfoods amazing, they can also be amazing when consumed together. This way you can get the most out of their therapeutic powers, while making the most of your summer.